Covid-19 has caused a change in access control security preferences. People no longer want to touch the public door, push the elevator button or slide the card reader for the access control system. Instead, they avoid touching the door, contactless and hands-free controls. A touchless door access control system aims to provide employees and visitors with a contactless way to enter commercial or public buildings. With an inaccessible access control system, you can avoid any physical contact. Employees can enter the building using face recognition, gestures or mobile applications without touching the keyboard or door.
What is Access Control System and How it Works?
Access control system is a kind of electronic security technology through which we can control people visiting a particular place and keep the data of visitors. Through the Access System, we can allow only those people who have been given permission to enter.
If a person who does not have an access card or access code can never open the door to that area. Access controls are of two types, physical and logical. We use physical access control system in any campus, building, IT company etc. We use logical access control system to control the transfer of file and data to a computer.
Whenever we install any access control system, we register the data of the user accessing it, so that we can give access to as many users as we want. This data can be a card, finger print, and PIN. Access control checks that information in its storage. Whether this data is with him or not, after this process, when the user's access matches the data stored in the data access control, then the access control permits the user to access that information. If the data does not match then the access control denies that access permission. And at that time, you may hear some beep or see red colour error which means you are accessing wrong.
Types of Door Access Control Systems:
In order to maintain the security issues, it is quite essential to choose the most efficient access control system. Below are a few popular door access control systems that make it a high security zone:
Independent locks are specifically designed to control access on one door only. Internal replaceable batteries aid lock operation and can be unlocked using a keypad, card or both. It is very fast and can be used within minutes after installation. Since, this system can only control single-door access, so the same thing cannot be used in the wider network. Some versions come with manual readers that can pull an audit trail from the door lock.
This is an easy-to-use system and in case if the card is misplaced, it will be easy to replace. Like any other ID card, one can easily deactivate their access card and issue the new one. Various other verification technologies such as photo IDs can also be linked to these cards. These proximity cards can work from a distance of an inch to three feet from the sensor. Also, the main reason behind the popularity of these cards is that they are slightly cheaper than other systems and easy to manage and control.
Physical features including retinal scans, handprints or fingerprints are required to check the person's identity. Because everyone has unique physical features, these systems are considered the safest and most accurate identification systems. However, these systems are relatively expensive than any other methods mentioned earlier in this article and can seem invasive to people who are often forced to use them.
Also Read: Web Based Visitor Management System
How to Install Access Control System:
Selection of access control system:
First of all, you should make sure which access control system you want to install because in the market you will find many products. Manly we get to see two types of access control systems, single door setup which are two-in-one or multi door setup which consists of one panel, which stores all the information and with that you have different doors.
You must have chosen how many doors you need for the system. But now you will also have to choose whether you would like to choose a card, or fingerprint, or devices that have access to both the card and fingerprint.
How to cabling the access control system:
It is easiest to do cabling because if you know which system you have selected and which system you want to install, then you can do cabling very easily.
Cabling of multi-door access control system: For cabling of a multi-door access control system you have to choose the location of the panel. Where you will install the panel, you have to have three cables from that panel to each door, in which the cable of the reader can be from 4 cores to 12 cores, it depends on the reader, according to how many cores of cable is required from the panel to the reader.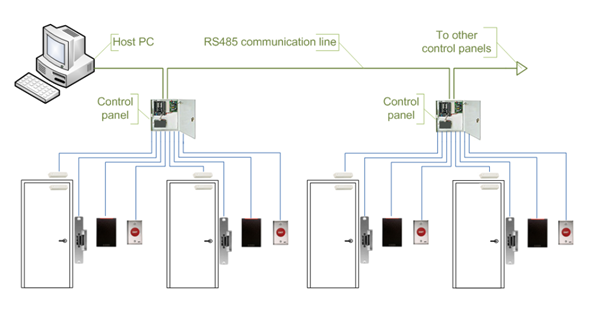 Now you have to insert the arm which is the frame of the door, even if this cable is 2 cores, it will run even with this wire, your EM will be LOCK. Now you have to put one last cable from panel to exit button, if it is also 2 cores, then work will be done. Similarly, you have to do the wiring for all doors.
Cabling of BIO matrix or Two in one system: – You do not need much wire for this. To give power to the reader and EM LOCK, remove the two wires from the arm near the reader, which seems to be on the side of the door. Now remove it from a 2-core wire reader into the EM LOCK and from a Reader to the exit button. Now you have wired your access control system. Now, according to the user manual of the access control, you can use it to make a connection.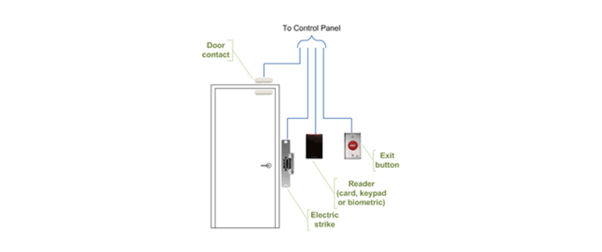 Once you have installed the system, now you have to store the information of the data in the access control (this data can be a card, fingerprint, and PIN)! After this, the user will be allowed to come if the access control data matches! Access Control will open your door from the relay and if the data does not match, then it will start giving a beep sound!
Advantages of Using the Access Control System
In addition to reduced theft and crime, access control systems can provide these benefits –
Traditional keys are not required
Traditional keys are repeatedly stolen and used and now access control system eliminates this problem. In the case of an access control system, you can immediately program the system and restrict access to the person whose card has been lost or stolen.
If the access control system is installed, you can get instant access using an ID card or fingerprint to save time. In addition, you do not need to hire security staff which help you to save a lot of money.
Regular monitoring and recordings
Installing an access control system means tracking, monitoring and recording people moving around the property's entry points 24/7. This helps to take measures before a crime or theft occurs and to provide evidence before the law and to punish the right criminals and thieves.
Bottom Line
This is how all physical access control security systems work! Whether it is a system to be used in a metro or to be used in an airport! Whether it is a card access system or a biometric system, all physical access control system works this way! We hope you have got a good idea what is the access control system and how it works.